LOGAN D. MURPHY, P.E., L.S.
Principal and Senior Engineer

University of Kentucky
B.S. in Civil Engineering, 1983
B.S. in Mining Engineering, 1983

Professional Licences
Kentucky Professional Engineer, No. 38752
Ohio Professional Engineer, No. 60605
Florida Professional Engineer, No. 15898
Kentucky Professional Land Surveyor No. 3316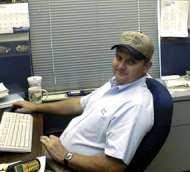 Sugar Creek Project: This project is a proposed 500-acer Golf Course Community in Gallatin County, Kentucky. The project includes the Planning, Design, and Construction Supervision of Lakes, Streets, Drainage, Wastewater, and Water Systems.

City of Crittenden, 201 Facilities Plan: This project involved the Long-Term Planning for the City's Wastewater Collection, Transmission, and Treatment Facilities.

City of Critenden, Wastewater Treatment Plant Expansion and Relocation: The Project consisted of the relocation of the City's existing 150,000 gpd WWTP, and expansion to a total capacity of 300,000 gpd. The Project also involved rehabilitation of two major pump stations, forcemains, and major interceptor gravity sewers.

Brentwood: The project is a 247 unit Residential Development in Dry Ridge, Kentucky, and involved the Planning, Design, Wastewater, and Water System.